CENDERAWASIH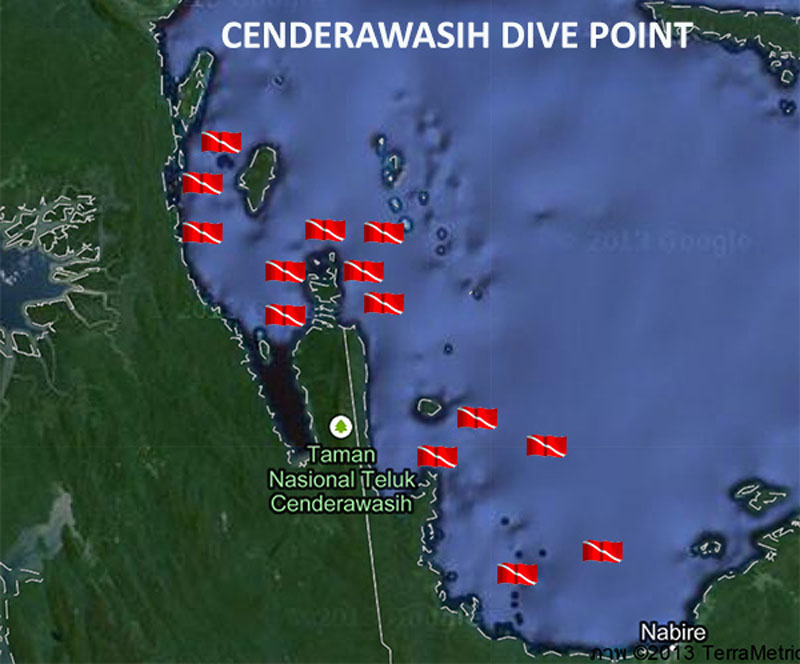 Along coastal area of Papua where resembles the shape of a large bird's head, The 1,453,500 hectare Cenderawasih Bay National Park is located in the western part of the bay. The Decree of Ministry of Forestry No.472/Kpts-II/1993 declared the park as a Marine National Park on 2nd September 1993. 95 percent of total area is waters (coral and seas) and the rest covers large mainland occupying 68,200 hectares (islands and coast line). Here are magnificent vertical drops, picturesque hard coral gardens, sponge life and myriads of fish. Dr.Gerald Allen ; scientist, calls the Cenderawasih Bay as " The Galapagos of Indonesia's Reefs". There are varieties of abundant coral reef (fringing reef, barrier reef, atoll, patch reef and shallow water reef) which is indeed the last of the few remaining pristine reefs in the world.

Over 10,000 years after Pleistocene age, the sea level was come up again and it brought the deep dwelling marine critters from deeper level to shallower level. Other normally deep dwelling marine critters can be seen in the shallower level in Cenderwasih such as Ornate Angelfish , Randall's Anthias, and Burgess Butterfly fish. These fish are generally found below 50 Meters throughout the rest of their range, but can frequently be seen at depth between 20-30 meters in Cenderawasih.

In addition, because of the landscape of the bay, it is prevented from outside current. Therefore, the marine critters in here are very unique. Besides, more than 500 species of hard coral in Cenderawasih bay, nearly 10 times of Caribbean sea, are found and at least 30% of them have not yet been described. Moreover, 15 of fish species found abundantly on its reefs are found nowhere else on the planet, and a number of others have unusual color morphs that are completely different to those found outside the bay.
---
Dive site
Kawatisore Bay :
From time to time at the horizon of Kawatisore village, a big community of whalesharks (known in local name as Hiniotanibre) are surrounding the floating fishing platforms (known in local name as " Bagan" ) Waiting for their favorite anchovies buffet throughout the day. The fishermen believe that their gentle giant friends are bringing the good luck to them, therefore they keep some alive anchovies in their fishing nets for their gentle giant friends who always fall in food temptation and keep closing to the floating fishing platforms.
Other dive sites :
There are another 20+ dive sites from the Pulau Purup in the northwest down to Mioswaar, Roon until

Kawatisore in the south of the bay. The historical geology in here creates the unique underwater critters and environment. Starting from shallows to 40 meters, there several species of fusiliers , schooling red-tooth triggerfish, giant trevally , a mix of reef sharks.

At Tanjung Ayami , it is located on the northeast of Pulau Roon, it is a long ridge of hard coral with few sea fans and soft corals. There is a channel with white sand at the bottom inside the channel, schools of barracuda and fusiliers or even " wunderpus octopus" are found there.

At Numamuran Strait – at 12 meters on hard coral slope at west side of Pulau Rippon, there is a Zero WWII airplane is resting. After the slop steepens, there are some nice sea fans and soft corals. At 25 meteres , there are small coral islands covered by masses of soft corals, sea fans, whips, elephant ear sponges on white sandy bottom. There are not only wide subjects like green turtles, barracuda and surgeonfish, but also macro subjects such as ribbon eels, and uncommon gobies. Bommies surrounded by fusiliers. The more strengthencurrent, the more marine life are coming.

At Crissy's Delight in the east Wandammen Peninsula , it is good for macro critters such as small cuttlefish, ghost pipefish, tiger shrimp , allied cowries and nudibranchs.

At Tanjung Mangguar – It is one of the most beautiful and attractive dive sites in Cenderawasih area. The abundance of soft coral and sea whip attracts large numbers of fish such as schools of barracuda, rainbow runners and travelley. Moreover, sharks, mantas and mobular rays are common in this area. Night dive here is very fantastic. With the sea grass at the bottom, orange frogfish , Pegasus sea moths, various nudibranches , and much more in front of the village where the stream flows into the bay.
Sample Special Critters :
Cenderawasih wrasse (Cirrhilabrus Cenderawasih) : typically found in group of 10-20 on slope area.
Papuan goby (not yet described) : Only found in here and lembeh strait.
Flasher wrasse (Paracheilinus Walton) : only found in here.
Cenderawasih bay Walking shark : found on shallow reef, sea grass beds and only in Cenderawasih.
Papuan gudgeon (Calumia papuensis) : Tiny fish measures less than 2cm.
Eilperin's gudgeon (Calumia eilperini) : know in only Cenderawish bay
Leatherbacks sea turtle.
And much more.
---
Traveling Guide
From - To
Airline
Flight
ETD-ETA
Jakarta (CGK) - Nabire (NBX)
Garuda
Depart 1 day earlier
GA650+7652
2100-0720+1
Lion Air + Wings Air Depart 1 day earlier
JT798 + IW1625
2140-0955+1

Batik + Wings (Same day)

ID6170+IW1600
0030-1445
From - To
Airline
Flight
ETD-ETA
Nabire (NBX) - Jakarta (CGK)

Wings Air to Jayapura

+ Garuda from Jayapura to Jakarta

IW1624

GA657

0610-0750

1140-1450

Garuda
GA7656 + 653
0800-1530
TRAVEL TIPS
Baggage Allowance
Most low cost airlines allow 10-15 Kgs / passenger for check baggage and 7Kgs for carry on.
Additional baggage weight is charged approx. USD 2/Kg. Please check for details with your
travel agent or airline carrier for actual details
For Garuda airlines llowance is as followed.
Sport Equipment weight allowance is additional upto 23 Kgs beyond check baggages.
Normal free baggages allowance is as followed. (Each of baggage does not exceed 32 Kgs)
International Flight
First class - 50 Kgs, Business Class - 40 Kgs , Economy - 30 Kgs
Domestic Flight
Business - 30 Kgs , Economy - 20 Kgs