KOMODO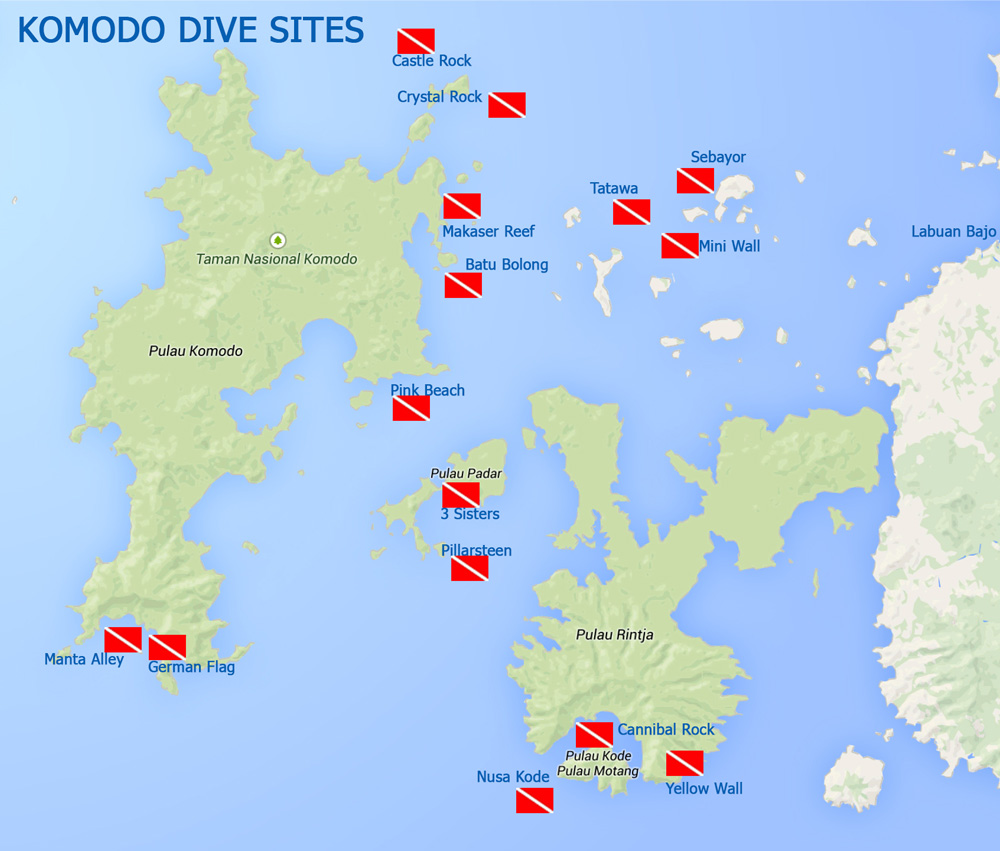 Komodo National Park is one of the NEW 7 WONDERS of the world (EST 2011) famous for unique biologically diverse hotspot for marine life, unspoiled reefs and a habitat of the majestic Komodo dragons. Apart from diving among big school of fish with colorful sea fans and pristine soft corals in North Komodo, South Komodo offers you an opportunity to truly dive with school of white and black mantas! Komodo is also where to find rare small critters in black sand for macro lovers. On top of UW world, we will take you to visit 1 of 7 pink beach in the world, trekking to see breathtaking Jurassic landscape and enjoy million stars,
gigantic milky way on our 360degree front deck at night.
---
Dive site
Bidadari Island :
The location consists of huge towers of stone covered with hard / soft corals. There are a lot of nudibranches, dusky sharks, bumphead parrot fishes. A gentle slope covered with every color of table corals. There are some small caves where are the home of some huge lobsters
Sebayour :
It is good dive spot for checking dive. The location is slope and sandy area continuing to ridge. There are a lot of macro fish like jawfish, bubble coral shrimps, leaffish, porcelain crabs. There are also plenty of schools of fusiliers, bumhead parrotfishes, red tooth triggerfishes and jack fishes.
Castle Rock:
Approx. 20-30 m depth. There are numerous seafans where are home of pygmy seahorses. The fish life here is simply stunning with school of barracudas, trevally, and mackerel. Also white tips, black tips, gray reef sharks, and the visibility is excellent.
Crystal Rock :
The rock is submerged at high tide and exposed at low tide. The best time to dive there is during slack tide. Big fishes come with some current. The water is very clear. The shallows host colorful Anthias , damselfish, pyramid butterfly fish, turtles and large octopus. For macro critters, nudibranches and frogfish are often seen.
Tatawa Besar :
The dive area is fringing reef and steep banks with turtles. There are several coral caves. There are a lot of fish like schools of sweetlips. Sharks and turtles are very common. Manta's sometimes come to this area also. The best way to dive here is to drift with the current along the northeastern side and end up on the corner for safety stop.
Tatawa Kecil :
This is a small rocky island consisting of very large boulders and rocks to the west. All covered with orange cup corals. The best time to dive here is during slacktide. There are many coral reef fishes including large groupers, snappers, sweetlips, jacks and shakrs. Gugong sometimes can be seen.
Batu Bolong :
It is a small rocky island. Diving can be done during only slack tide. This area is unharmed by fisherman because the typical of the location where is steep walls does not allow them to use dynamite and cyanide fishing techniques. The area are covered by colorful corals and thousands of small colorful fish. It is needed to strictly dive in this area. Divers must follow the dive guide to avoid the getting suck down to the deeper level.
Wainilu :
It is good to visit macro marine life here. There are a lot of nudibranches, banded pipefishes, mandarin fishes, Wonderpus, Indian walkman, frogfishes, and harlequin sweetlips. .Some divers call this area as " Little Lembeh" .
Cannibal Rock :
There are both hard and soft corals . It is very abundant and worth to do several dives. We can se several species of unusual nudibranches, zebra crabs, and frogfishes. The top of the reef is covered by anemones with different species of sea anemone fishes. Diving here is easy because of little current.
Yellow Wall :
It is covered by large yellow soft coral ... that's why it is called Yellow Wall. The water temperature is very cold because of upwelling from deep in the ocean south of Rinca. Uncommon speciesof nudibranchs ccoleman shrimp are attractive.
Manta Alley :
It is very famous dive site to see Mantas. They can be found through the site. In addition, there are schools of bumphead parrot fish, bamboo sharks, and marble rays.
---