KOMODO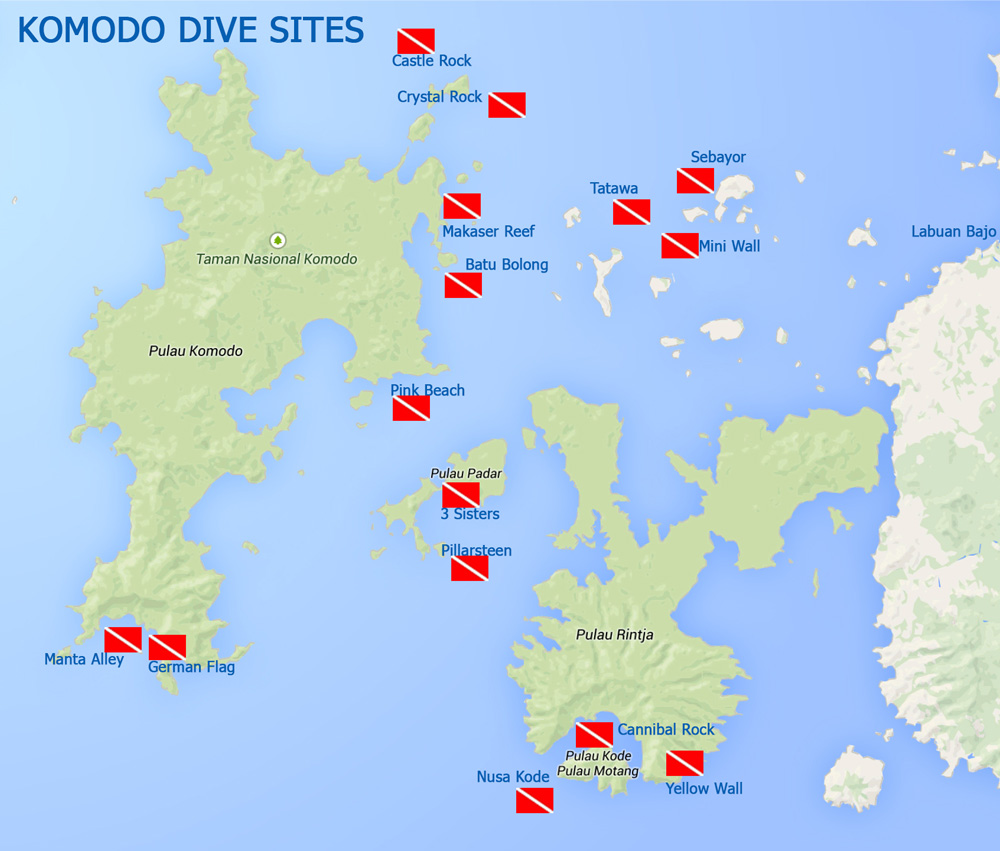 The Komodo National Park is a national park in Indonesia consisting of the three large islands; Komodo, Padar, Rinca and 26 small ones. The national park was founded in 1980 to protect the Komodo dragon, the world's largest lizard. Later it was dedicated to protect other species, including marine species. In 1991 the national park was declared a UNESCO World Heritage Site. It has been selected as one of the New 7 Wonders of Nature. The climate is oe of the driest of Indonesia with annual rainfall. Dry season is from May to October. In the north of the park, water temperature ranges between 25-29 C. In the middle, the water temperature ranges between 24-28 C and the South, the water temperature ranges between 22-28 C. The visibility is very quite clear.

Komodo National Park includes one of the world's richest marine environments. It consists of forams, cnidarian (includes over 260 species of reef building coral) , sponges, marine mammals (dolphins, whales, and dugongs) , Napoleon wrasse and groupers.
---
Dive site
Bidadari Island :
The location consists of huge towers of stone covered with hard / soft corals. There are a lot of nudibranches, dusky sharks, bumphead parrot fishes. A gentle slope covered with every color of table corals. There are some small caves where are the home of some huge lobsters
Sebayour :
It is good dive spot for checking dive. The location is slope and sandy area continuing to ridge. There are a lot of macro fish like jawfish, bubble coral shrimps, leaffish, porcelain crabs. There are also plenty of schools of fusiliers, bumhead parrotfishes, red tooth triggerfishes and jack fishes.
Castle Rock:
Approx. 20-30 m depth. There are numerous seafans where are home of pygmy seahorses. The fish life here is simply stunning with school of barracudas, trevally, and mackerel. Also white tips, black tips, gray reef sharks, and the visibility is excellent.
Crystal Rock :
The rock is submerged at high tide and exposed at low tide. The best time to dive there is during slack tide. Big fishes come with some current. The water is very clear. The shallows host colorful Anthias , damselfish, pyramid butterfly fish, turtles and large octopus. For macro critters, nudibranches and frogfish are often seen.
Tatawa Besar :
The dive area is fringing reef and steep banks with turtles. There are several coral caves. There are a lot of fish like schools of sweetlips. Sharks and turtles are very common. Manta's sometimes come to this area also. The best way to dive here is to drift with the current along the northeastern side and end up on the corner for safety stop.
Tatawa Kecil :
This is a small rocky island consisting of very large boulders and rocks to the west. All covered with orange cup corals. The best time to dive here is during slacktide. There are many coral reef fishes including large groupers, snappers, sweetlips, jacks and shakrs. Gugong sometimes can be seen.
Batu Bolong :
It is a small rocky island. Diving can be done during only slack tide. This area is unharmed by fisherman because the typical of the location where is steep walls does not allow them to use dynamite and cyanide fishing techniques. The area are covered by colorful corals and thousands of small colorful fish. It is needed to strictly dive in this area. Divers must follow the dive guide to avoid the getting suck down to the deeper level.
Wainilu :
It is good to visit macro marine life here. There are a lot of nudibranches, banded pipefishes, mandarin fishes, Wonderpus, Indian walkman, frogfishes, and harlequin sweetlips. .Some divers call this area as " Little Lembeh" .
Cannibal Rock :
There are both hard and soft corals . It is very abundant and worth to do several dives. We can se several species of unusual nudibranches, zebra crabs, and frogfishes. The top of the reef is covered by anemones with different species of sea anemone fishes. Diving here is easy because of little current.
Yellow Wall :
It is covered by large yellow soft coral ... that's why it is called Yellow Wall. The water temperature is very cold because of upwelling from deep in the ocean south of Rinca. Uncommon speciesof nudibranchs ccoleman shrimp are attractive.
Manta Alley :
It is very famous dive site to see Mantas. They can be found through the site. In addition, there are schools of bumphead parrot fish, bamboo sharks, and marble rays.
---
Traveling Guide
There are 2 major airlines operating in this route. They are Garuda airlines and Wings Air (by Lion Air).
From - To
Airline
Flight
ETD-ETA
Denpasar (DPS) - Labuan Bajo (LBJ)
Garuda
GA7026
0730-0905
GA7036
1055-1225
Wings Air
IW1888
0800-0915
IW1830
1250-1410
From - To
Airline
Flight
ETD-ETA
Labuan Bajo (LBJ) - Denpasar (DPS)
Garuda
GA7027
1600-1730
GA7029
1625-1800
Wings Air
IW1831
0840-1000
IW1889
0945-1055
IW1899
1600-1720
Nam Air
IN665
1530-1620
TRAVEL TIPS
Baggage Allowance
Most low cost airlines allow 10-15 Kgs / passenger for check baggage and 7Kgs for carry on.
Additional baggage weight is charged approx. USD 2/Kg. Please check for details with your
travel agent or airline carrier for actual details
For Garuda airlines llowance is as followed.
Sport Equipment weight allowance is additional upto 23 Kgs beyond check baggages.
Normal free baggages allowance is as followed. (Each of baggage does not exceed 32 Kgs)
International Flight
First class - 50 Kgs, Business Class - 40 Kgs , Economy - 30 Kgs
Domestic Flight
Business - 30 Kgs , Economy - 20 Kgs